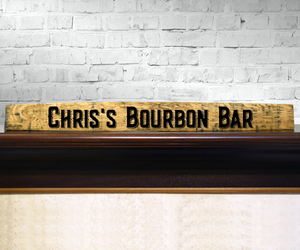 Laser Engraved Bourbon Bar Barrel Stave
This Bourbon Bar sign is a perfect gift for the bourbon lover in your life!  Made from a barrel stave reclaimed from a Maker's Mark bourbon whiskey barrel, this sign is laser engraved and fully customizable.  Our staves are reclaimed from Maker's Mark bourbon barrels.  
When you order, simply include your information in the shopping cart order notes.  Wall hanger installed.  34" long.  
Staves may contain stress cracks due to the aging process of the bourbon as the barrel expands and shrinks throughout the changing of the seasons. The cracks do not affect the structural integrity of the product, they just add more character!  Our handcrafted products are made to order, please allow 2-4 weeks for shipping.